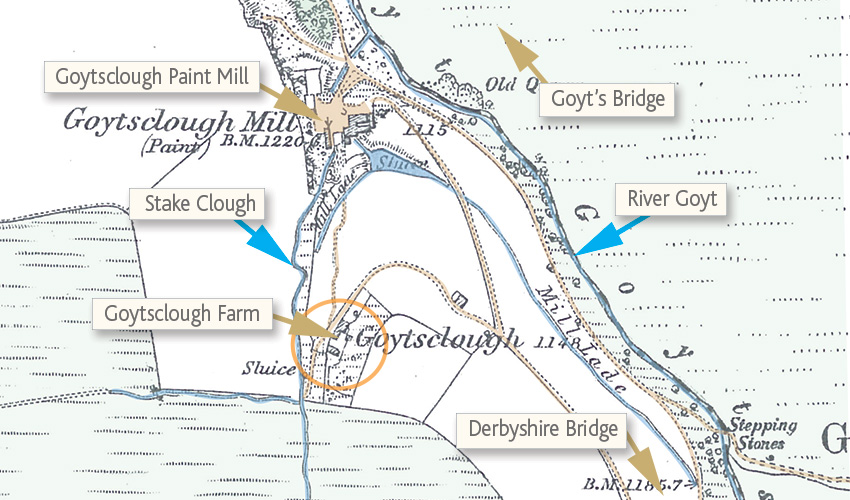 Above: This 1890 map (click to enlarge) shows Goytsclough Farm, lying close to the Paint Mill. Goytsclough Quarry is just to the north.
Above: The ruins of Goytsclough Farm aren't easy to find. Looking along the road to Derbyshire Bridge, with the Packhorse Bridge in the valley to your left, go up the slope to your right. They lie just over the highest point, on the footpath towards Stakeside and Shining Tor.
Goytsclough Farm
What little remains of Goytsclough Farm is now shrouded in trees, close to where the Paint Mill once stood. Walk 15 passes close by.
This part of the Goyt Valley was once a hive of industry. As well as the Paint Mill, Goytsclough Quarry was a few hundred yards away, beside the road to Goyt's Bridge. So at one time, teams of packhorses would have been travelling in both directions, carrying the quarried and milled stone. And as the roads improved, horses and carts, and then lorries, would have done the work.
My thanks to Mike for providing the census records shown below. They are slightly confusing. There are two sets of records for the 1911 census – one for Goyts Clough and another for Goyts Clough Cottage. Also, the Swindell family seems to have moved from Goyts Clough in the 1901 census to Goyts Clough Cottage in the 1911 census.
Perhaps there was a cottage attached to Goytsclough Farm, or perhaps these records were for the cottages at Goytsclough Paint Mill. I'll update this page if things get a little clearer.
Surname
First name
Born
Relationship
Occupation
Birth place
1871 Census (Goyts Clough)
Lomas
James
c1826
Head
Farmer of 30 acres
Hartington
Lomas
Sarah
c1828
Wife
Chapel en le Frith
Lomas
Sarah
c1861
Daughter
Fernilee
Lomas
Martha E
c1864
Daughter
Fernilee
Lomas
Harriet
c1867
Daughter
Fernilee
Lomas
James
c1870
Son
Taxal
1881 Census
Lomas
Elizabeth P
c1853
Head
Farmer of 170 acres
Fernilee
Lomas
Lena (?)
c1881
Daughter (?)
Marple
Lomas
Nellie (?)
c1881
Daughter (?)
Marple
Lomas
Harriet
c1867
Sister (?)
Domestic servant
Whaley Bridge
Lomas
Hannah
c1873
Neice
Derbys
1891 Census
Braddock
Thomas
c1841
Head
Gamekeeper
Disley
Braddock
Ann
c1845
Wife
Bollington
Braddock
James
c1881
Son
Taxal
Braddock
Elizabeth Ann
c1881
Daughter
Taxal
Braddock
William Henry
c1887
Son
1901 Census
Braddock
Thomas
c1841
Head
Gamekeeper
Disley
Braddock
Ann
c1845
Wife
Disley
Braddock
James
c1881
Son
Gamekeeper
Taxal
Braddock
William
c1887
Son
Taxal
Swindells
John
c1849
Head
Coal miner
Rainow
Swindells
Eliza Ann
c1853
Wife
New Mills
Swindells
Jeffrey
c1871
Head
Coal miner
Kettleshulme
Swindells
Sarah Isabelle
c1874
Wife
Manchester
Swindells
John William
c1893
Son
Kettleshulme
Swindells
Annie
c1893
Daughter
Taxal
Swindells
Isabel
c1897
Daughter
Errwood
Swindells
Henrietta
c1900
Daughter
Errwood
Salmon
William
c1854
Boarder
General labourer
Manchester
1911 Census (Goyts Clough)
Braddock
Thomas
c1840
Head
Read. gamekeeper
Disley
Braddock
Ann
c1845
Wife
Bollington
Braddock
William
c1886
Son
Gamekeeper
Goyts Clough
Braddock
James
c1881
Head
Gamekeeper & farmer
Errwood
Braddock
Sarah
c1881
Wife
Saltersford
Braddock
Edward
c1907
Son
Goyts Clough
Braddock
Robert
c1908
Son
Goyts Clough
Braddock
William
c1910
Son
Goyts Clough
1911 Census (Goyts Clough Cottage)
Swindells
Jeffrey
c1871
Head
Coal miner / hewer
Kettlshulme
Swindells
Sarah Isabell
c1874
Wife
Manchester
Swindells
John William
c1893
Son
Colliery labourer waggoner
Kettlshulme
Swindells
Isabell
c1897
Daughter
Errwood
Swindells
Jeffrey
c1899
Son
Errwood
Swindells
Henrietta
c1900
Daughter
Errwood
Swindells
Roy
c1902
Son
Errwood
Swindells
Bessie
c1904
Daughter
Errwood
Swindells
Harry
c1907
Son
Errwood
Swindells
Joseph
c1910
Son
Errwood