Goyt Valley miscellaneous
These posts don't fit easily within the existing sections of the website – which is why I've called them miscellaneous. They're a bit of a pick and mix collection – but interesting just the same. Simply click on the 'Read more' links to view any story. All contributions would be very gratefully received. To get in touch, simply use the site contact page.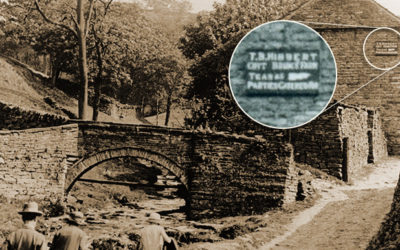 Trying to resolve the riddle of the Goyt's Bridge tea room sign; we find Tommy Hibbert in the census returns – but it doesn't help cast much light upon the mystery!
read more
Above: I think the two ladies peering shyly through the doorway are the Grimshawe sisters – Mary and Genevieve. It looks as though they were attending some kind of opening ceremony. But where and when I don't know. If anyone can shed any light on the photo, please do get in touch.