Goyt Valley miscellaneous
These posts don't fit easily within the existing sections of the website – which is why I've called them miscellaneous. They're a bit of a pick and mix collection – but interesting just the same. Simply click on the 'Read more' links to view any story. All contributions would be very gratefully received. To get in touch, simply use the site contact page.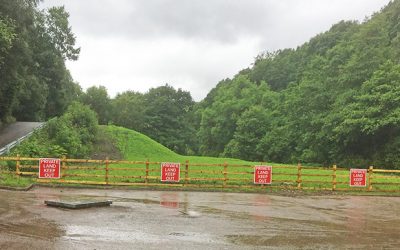 It's taken almost a year, but the footpath between Fernilee and Taxal, past the old pump house, has finally reopened. But I hadn't realised the old building was to completely vanish from the landscape.
read more
Above: I think the two ladies peering shyly through the doorway are the Grimshawe sisters – Mary and Genevieve. It looks as though they were attending some kind of opening ceremony. But where and when I don't know. If anyone can shed any light on the photo, please do get in touch.